About Apex Marketing Strategy
Apex Marketing Strategy is a premier content provider. Offering services ranging from syndicated columns to movie script consulting, Apex's expertise is trusted by print, online, government, and entertainment clients around the globe. Recognized by enthusiasts, publishers, producers, and casual readers, no other company is better at putting the reality into words.

Learn more about: Automotive Content Services and Products or Consulting Services


Sam Barer -- Founder and Editor-In-Chief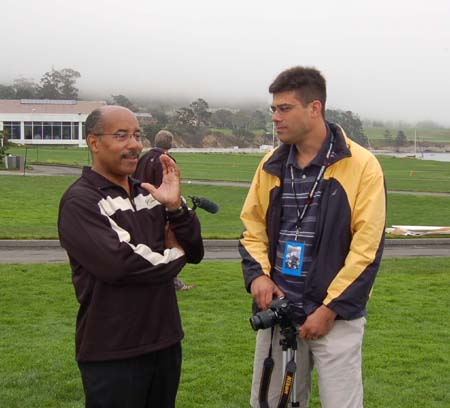 Apex founder Sam Barer pictured in a relaxed conversation
with GM Styling Chief Ed Welburn about their favorite examples
of Buick's Riviera. (For the record: Ed likes 1965, while Sam chooses '63.)
Apex was founded in 2002 by current Editor-In-Chief Sam Barer. Sam's writing career started early and unexpectedly when he scripted a local television advertisement at the age of ten. He continued his not-so-typical path by taking his Marketing degree to D.C. and serving as a legislative correspondent for Members of Congress. After quickly identifying the disparity between pay and bills (and learning that the honor of working in the US Capital building and eighty cents buys a bag of chips,) a career shift was executed to do product marketing work in telecommunications, which resulted in being tasked with building one of the first regional Internet companies -- a job that included writing and voicing radio ads. Soon Sam was on his way to direct product and online marketing at a Web software start-up, which led to a series of larger titles with better compensation packages for increasingly higher-profile corporations. Suffering burn-out from years in the game and fear of permanent brain damage caused by memorizing thousands of industry TLAs (three-letter-acronyms), Sam pulled the rip chord as the brink of the tech bust came into view.

After leaving the high-tech world behind on his own terms, Sam vowed to spend more time working in areas reflecting his passions and leveraging the writing skills he had honed. As a life-long car nut, Sam formed Apex Marketing Strategy to provide content and writing services with an emphasis on automotive topics. Apex is credited with a diverse range of freelance writing and marketing projects, but is best known for "Sound Classics" -- a weekly collector car feature syndicated to newspapers and web sites. Aside from automotive and transportation issues, Apex has extensive experience writing and researching health, technology, business, music, and current event topics.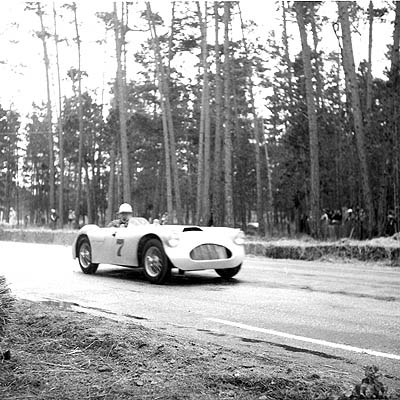 Apex staff is experienced. Our Senior Editor took this photo
while covering the Pebble Beach Road Races in 1955!
Apex's Writing, Research and Photojournalism Team
Joining Sam at Apex are writers, photographers and automotive experts who have the background and knowledge to attack any project. No bloggers posing as journalists here -- Apex features a professional staff with decades of experience. Our senior editors were publishing automotive newspaper content before Ferrari started equipping disc brakes, meaning the Apex team saw history as it unfolded, got to know the big names when they were just starting out and witnessed the trends as they happened. Most importantly, unlike many other content providers, our staff received education from the nation's leading universities and has critical training in areas as diverse as business, law, insurance, mechanics, and history as to understand the impact of any issue, be it automotive or otherwise, on society.
Contact Apex and find out how to improve your publication's readership, reputation and advertising revenues with content that is fresh and different.