Yesterday and Today: Chevy's "modern" pickups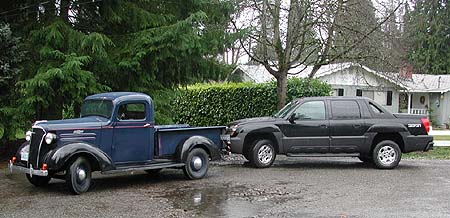 Sam Barer's Sound Classics from Apex Marketing Strategy

For almost ninety years, America has had a love affair with their pickup trucks. Anyone who couldn't find one when they needed it understands why.

Original classic trucks are rare. Most early trucks sustained abuse serving work duties and found their way to junkyards. Of the survivors, many were converted to hot rods.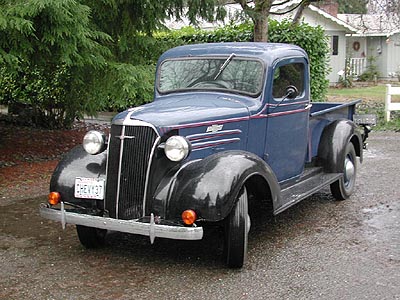 You're unlikely to find a more original example than the Haley's '37. The truck is a Northwest native, originally purchased by a Puyallup man at Sunset Chevrolet in Sumner. It was repainted only once, by Sunset Chevrolet in 1967 in its original blue color. When the owner died in 1978, the truck was willed to an Olympia-area farmer, who owned it until this past April, when the Haleys purchased it.
Glenn Haley didn't buy it to drive for himself, as he is legally blind. Arlis is the driver of the family.
Getting out of the 2003 Avalanche, the first thing I notice is the incredible difference in size between the two vehicles. The Avalanche dwarfs the '37. The modern truck looks like it has overdosed on steroids with angular bulges and gaudy plastic cladding (evoking frequent comparisons by media-types and consumers to the infamous low-point of modern GM design, the Pontiac Aztek.) It simply doesn't compare to the classic swoops and bends of the fenders on the '37. The headlights give the older version a cute bug-eye look, while its original wood bed is a sight for sore eyes.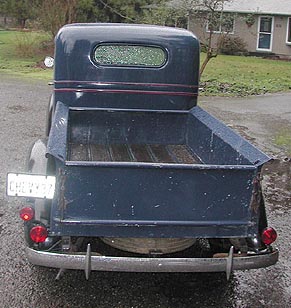 The Haley's truck seats two, and is optioned with such amenities as a cigarette lighter (no ashtray,) bumper guards, dual tone horn and a spare-tire lock. That's a far cry from the Avalanche's seating for five, folding mid-gate, push-button four-wheel-drive, and DVD system. Of course, the '37's price when new totaled $575, compared to $41,331 for the Avalanche!
Glenn and I climb into the 1937. The leather seats are worn, with the passenger cushion hiding the gas tank and filler. Luckily, safety has come a long way. The cramped cabin, closely spaced pedals and lack of legroom don't favor tall drivers. The dash features fantastically retro black on tan speedometer, fuel, water, ammeter and oil gauges.
Turn the key, pull the choke and…wait, where's the starter? It's actually a foot-button placed directly to the right of the accelerator pedal, making it easy to hit accidentally. With a little cranking, the 216 cubic inch straight-six comes to life. It's gruff, like a good workhorse should be. The long H-pattern gearshift slides down into first, and away we go.
A common expression is "drives like a truck," but the Haley's '37 drives like contemporary cars. Synchromesh on second and third gears means double-clutching is only required for first. Acceleration from the 85 horsepower six is relaxed, and can't compare with the Avalanche's outstanding 5.3 liter OHV V8, but in an era when trucks were not asked to exceed 50mph, it's ample.

The dual solid axles and lever arm shocks do wonders smoothing road imperfections. Trucks of this vintage shouldn't be rushed around corners, but steering is direct. This is an easy truck to drive, and within a few minutes, I'm all smiles…even as the skies open-up with rain.
The Avalanche's four-wheel-drive and the Off-Road Package's stiffer springs provide confident handling in foul weather. The steering, however, communicates less feeling than a linebacker's knee after a mid-game Novocane shot, limiting the fun-factor.
Head-to-head, the Avalanche is certainly the more capable, comfortable vehicle. Both vehicles command attention, one for its wonderful old-style charm, and the other for its mammoth size and exuberant use of body cladding.
In its day, the '37 Chevy was a perfect choice for a work truck. In contrast, the Avalanche, while designed to serve truck, SUV and family sedan duties in one package, is in reality a jack-of-all trades, master of none. Its $41,331 sticker buys both a Honda Accord, a superior family hauler, and a Chevy Silverado1500 4X4, a better work pickup. Lower its sticker to $25,000 and Avalanches would sell like hotcakes.
But give me the opportunity for to buy either the '37 pickup or the 2003 Avalanche at $575, and I'll take both!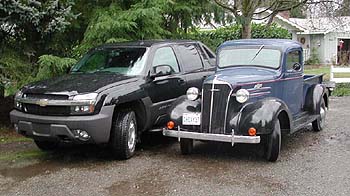 Back to Apex's Automotive Content Services